Digital Xpressions can manage your Google AdWords Campaign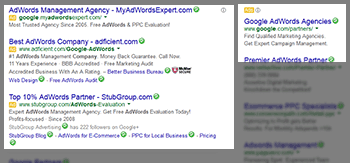 Hiring a company to manage your AdWords account can help save you time and maximize your return on your Google AdWords Expenditures.
We can assist you in setting up your account and setting up your campaigns.
We can also help explain the costs involved with Google AdWords. Sitting down and reviewing the Google AdWords panel can help explain the entire process, the results, the reports and what to expect overall.
When you do pay per click advertising using Google AdWords, your ads - depending on the time of day, region/area and top bid for keywords will determine when and where your ad will display.
Digital Xpressions can guide you in setting up or managing an existing account and will be billed separately than Google AdWords account costs. AdWords account costs are billed separately through Google and depend on your cost-per-click, daily budget, and ad performance.
Digital Xpressions is in the process of becoming a Google Certified Partner.
Please feel free to contact us for a free initial consultation or additional information. We'll be happy to assist you and answer your questions.