Content Managed Systems is a Custom Developed Application where Digital Xpressions custom codes sections of your website so that you can add new content, modify existing content or remove from website display (delete) content.
A Content Managed System Website (CMS) is a custom web application that allows the owners of the site to add new content, edit content, delete content and helps provide support to manage work-flow.
The goal of Digital Xpressions custom coded CMS is to help you make the Most of Your website by giving you the ability to update the most important or frequently used/visited pages of your website.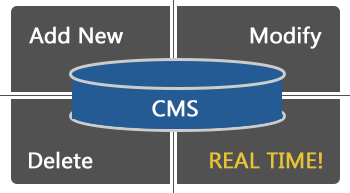 The advantages of CMS, is that you are now proactive with your website you can communicate with your existing and new customers and you don't have to spend additional money to pay for custom code that is not necessary.
For example, your company page may only need updating from time to time, this is not a page that would be built into your custom content managed system.
Your news and projects pages would be pages that would probably be needing to be updated each week or each month!
These are the areas that we would develop for you, thus cutting the cost of creating a custom website application!
Plus, you'll have the ability to export CSV data for reporting and for use in other applications!
As clients complete forms on your website, their information can be saved to your content managed system - to ensure prompt customer service!
There are many reason why a Content Managed System would work for your company, contact us today to learn if it is something your company could benefit from!
We work with you, so your website works for you.