The Internet is growing and so is the way we view it.
By default Digital Xpressions creates a site that is mobile friendly, which simply means the website is developed so that the look, feel and features function relatively the same on both computers and portable devices, such as phones and tablets.
There are other options for mobile devices that are available for your mobile website. Depending on your audience, goals and budget will help determine the best option for your mobile website.

Designed to size and fit to computing devices



Mobile design is perfect for those targeting mobile users of their website.

Designed specifically to fit smart phones.

Only mobile phone users will see this version.


Websites designed to adjust to the screen of the user's device is known as Responsive design .
What difference does it make?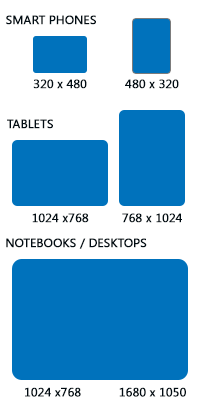 When an average of 1 out of eight website page views come from a mobile device, mobile surfing is rapidly growing and targeting a specific audience.
Have you noticed that on different devices the content displays differently? That is all due to the screen resolution!
Websites display at 72 dots per inch (dpi), the larger the screen, the more pixels are displayed and more content is displayed.
Mobile sites have to load as fast or faster than desktop websites! If a mobile website is not user friendly you risk losing that visitor to a site that is mobile friendly
What option is the best for your business, relies on your business goals and marketing agenda.
Contact us today for a FREE consultation!
We work with you, so your website works for you.