When optimizing your website for search engine optimizaiton, each page has to optimized for the content that is on it.
When search engine optimizing your website, it has to start with a SEO friendly website, that is, navigation, title tags, alt tags and each page optimzied to the content itself.
There are other factors to consider when optimizing your website and we have outlined them below to hopefully make SEO a little easier to understand.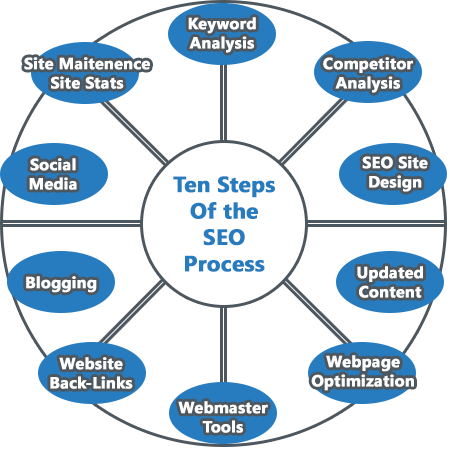 Although we are covering ten steps, there are many, many other elements that to tie into a well optimized site and although some items carry more weight in optimization - every little bit that can be completed - should be.
After your site is complete, the site should have one more once-over - it is at this point that the title tags in the headers should be set. And the tags on the page, links to pages within the site and alt tags on images should be check to ensure they all fall into the scope of that page.
Trying to cover too may items on one page and over keyword the page can push you back in your goal to appear higher in search engine organic results!
When meeting with, or soon thereafter -send a list of links to your competition. Better yet, have them available at the time of meeting. Having a clear understanding of who and how your competitor is and how they're ranking can help determine the best keyword terms for your website.And NO cheating!!! Duplicate content is not appreciated by Google, so whether you're duplicating content on your own site or from another site - can prevent you from ranking higher in search engine organics!
There are many aspects and information in helping get your site to rank higher in search engine organics. It is NOT an overnight sucess and you can't expect your site to rank if you're not willing to put time or energy into it.
From social media, updated content on blogs, local link backs - there are many many factors and it is an on-going venue. Each month your site staticstics and Google/Bing statistics should be analyized and reveiwed and changes completed to the site in the ever going battle to reach the front page and to stay there.
Contact us today to learn more!
We work with you, so your website works for you.